This is gonna be one for the books!
Voidstar Productions 25 Year Anniversary Festival
October 2nd, 3rd, 4th 2015 – BOSTON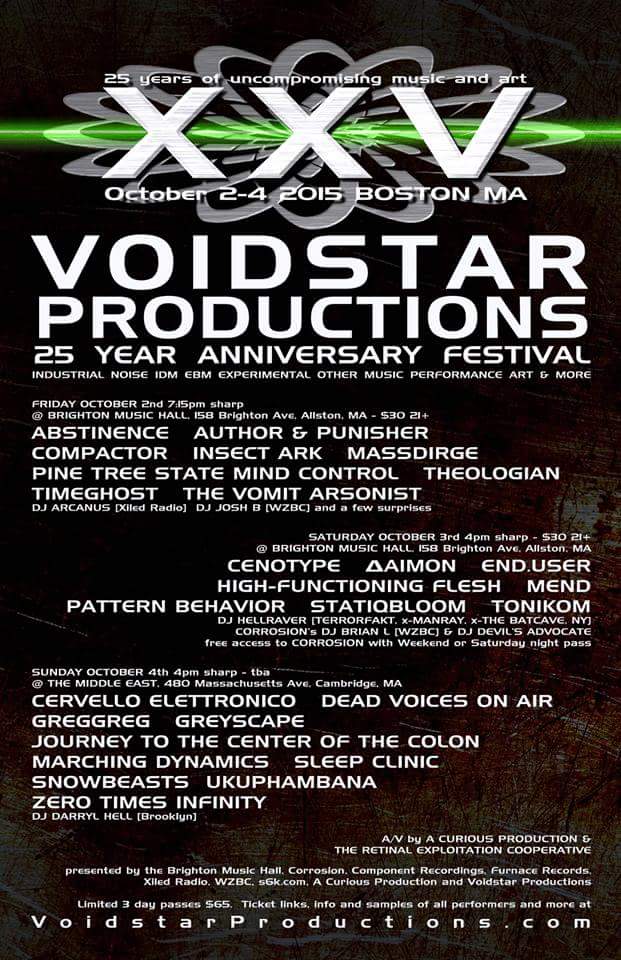 3 days of live industrial, noise, idm, experimental, dark and eclectic music and performance art.
Shirts, compilation and more are available for a limited time at:https://www.indiegogo.com/projects/voidstar-productions-25-year-anniversary-festival/x/9790057
Join our mailing list at :http://www.voidstarproductions.com/ for updates and other events.
Friday-Saturday will be at Brighton Music Hall
Sunday at The Middle East Upstairs
Weekend passes are now sold out.
Limited Day of show passes are still available
for Friday and Saturday October 2nd-3rd at
http://crossroadspresents.com/brighton-music-hall/
and for Sunday October 4th at
http://www.ticketweb.com/t3/sale/SaleEventDetail?dispatch=loadSelectionData&eventId=6146895&pl=mideastclub&REFID=elink