Cenotype headlines APEX XIX at Trans-Pecos NYC – August 13th!
APEX XIX : Celebrating 19 years of antisocial music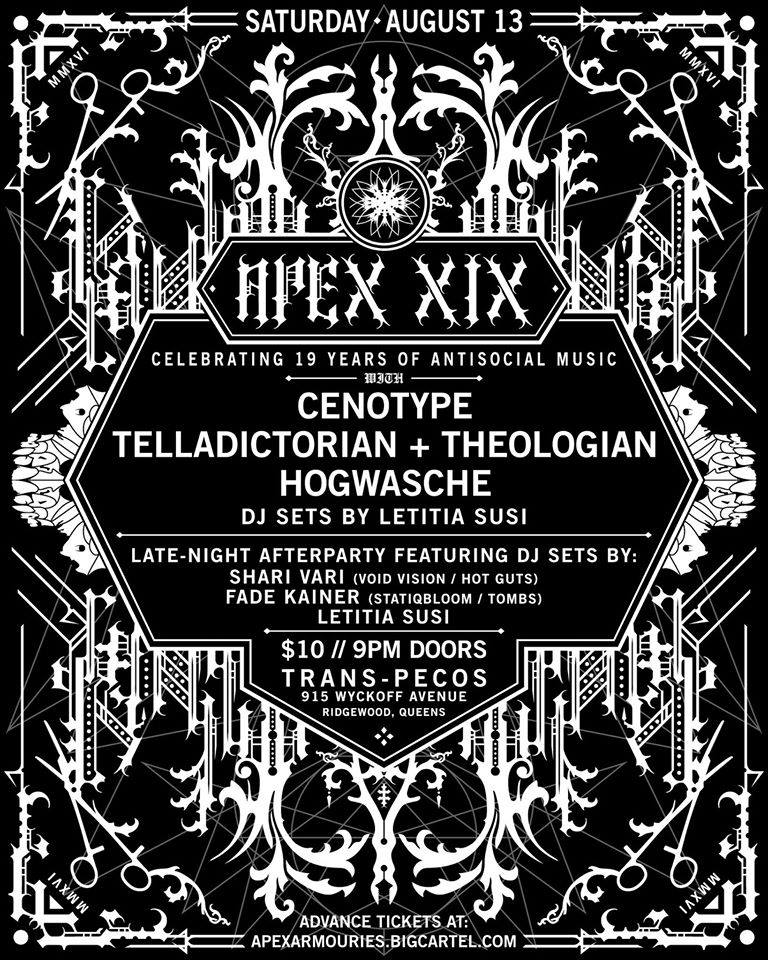 with
CENOTYPE https://cenotype.bandcamp.com/
TROLLER https://troller.bandcamp.com/
TELLADICTORIAN+THEOLOGIAN https://soundcloud.com/telladictorian
HOGWASCHE https://hogwasche.bandcamp.com/
DJ Sets by Letitia Susi
Late-Night Afterparty featuring DJ Sets by
Shari Vari (Void Vision/Hot Guts)
Fade Kainer (Statiqbloom/Tombs)
Letitia Susi
$10
Cenotype helps to kick the shit out of cancer with other awesome bands at QXT's!
SATURDAY, JULY 23RD
ELECTRONIC SAVIORS
A LIVE CONCERT and DANCE PARTY
to CRUSH CANCER!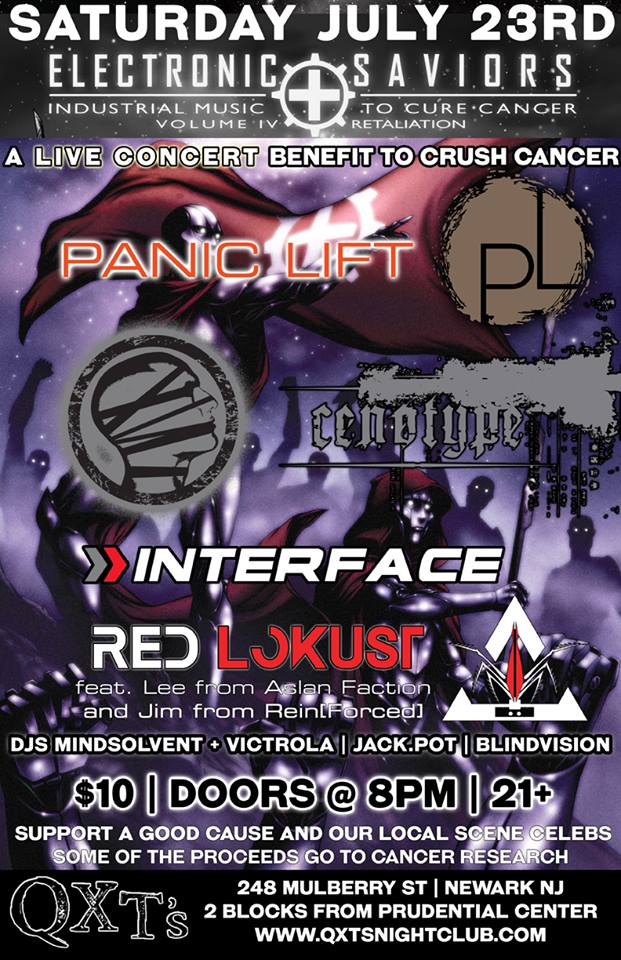 All of the following bands are donating their time and performance absolutley free to raise money and support the fight against cancer and this compilation!
You can read more about this project and Jim Semonik's cause, as somewhere along the line… it affects us all in some way.
details here:
QXT's will donate a portion of the proceeds of this event with your donation of $10 for 4 bands and a dance party in between bands and after at 11! That's $2.50 a band!!
Performers Include
plus DJ's on two levels 3 dance floors (Dance party at 11)
Mindsolvent & DJ Victrola – Main Floor
Jack.pot – Area 51
Blindvision- The Crypt
Let's gather to show everyone how much QXT's and it's family love and support not only Underground Music, but, the welfare of others!
Doors 8 pm
First band 8:30 (get your moneys worth! come early please)
Dance party at 11 (but we're pretty sure you'll break out into dance before then ?
$10 for all (remember it's a donation for all this entertainment…something you can feel good about)
Cenotype plays the Voidstar Productions 25th Anniversary Fest in Boston this weekend!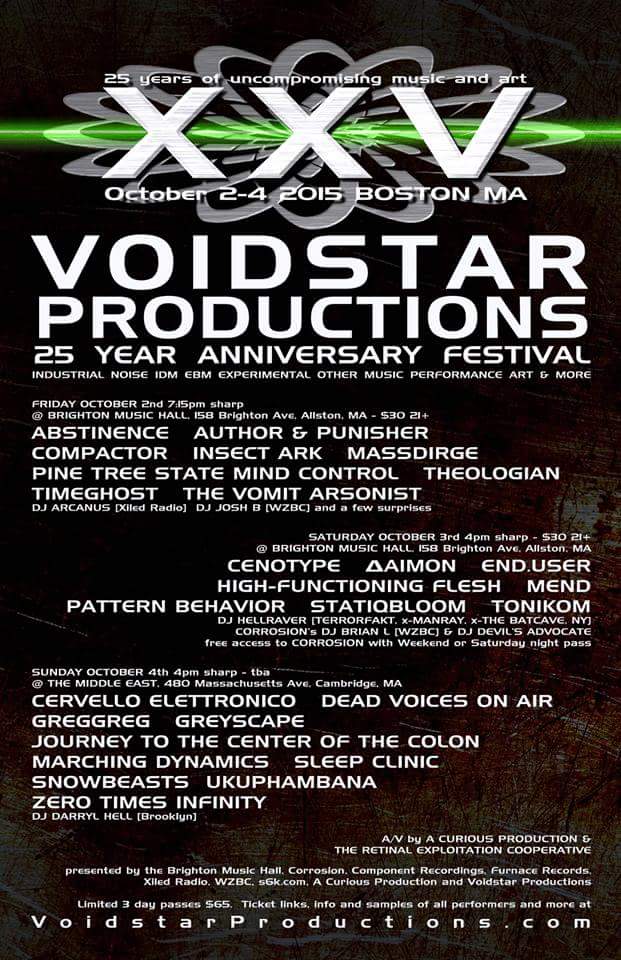 3 days of live industrial, noise, idm, experimental, dark and eclectic music and performance art.
Shirts, compilation and more are available for a limited time at:https://www.indiegogo.com/projects/voidstar-productions-25-year-anniversary-festival/x/9790057
Join our mailing list at :http://www.voidstarproductions.com/ for updates and other events.
Friday-Saturday will be at Brighton Music Hall
Sunday at The Middle East Upstairs
Weekend passes are now sold out.
Limited Day of show passes are still available
for Friday and Saturday October 2nd-3rd at
http://crossroadspresents.com/brighton-music-hall/
and for Sunday October 4th at
http://www.ticketweb.com/t3/sale/SaleEventDetail?dispatch=loadSelectionData&eventId=6146895&pl=mideastclub&REFID=elink
NEWS| April 9th, 2014
NEWS| January 14th, 2013
NEWS| January 14th, 2013
NEWS| October 18th, 2012
NEWS| August 30th, 2012
NEWS| August 30th, 2012
NEWS| June 6th, 2012
We spoke to Kathleen Chausse about the project's roots in classic power noise, the importance of packaging, and developing as a live project.
READ THE FULL INTERVIEW BY CLICKING HERE
NEWS| June 2nd, 2012
NEWS| May 31st, 2012
NEWS| May 30th, 2012
NEWS| May 8th, 2012
NEWS|April 18th, 2012
NEWS| February 17th, 2012
NEWS| February 2nd, 2012
November 11th, 2011
November 11th, 2011
June 17th, 2011|
March 18th, 2011
Philly, get ready.
Cenotype has been added to the exclusive East Coast Leaether Strip show!!
I. am. so. incredibly. psyched!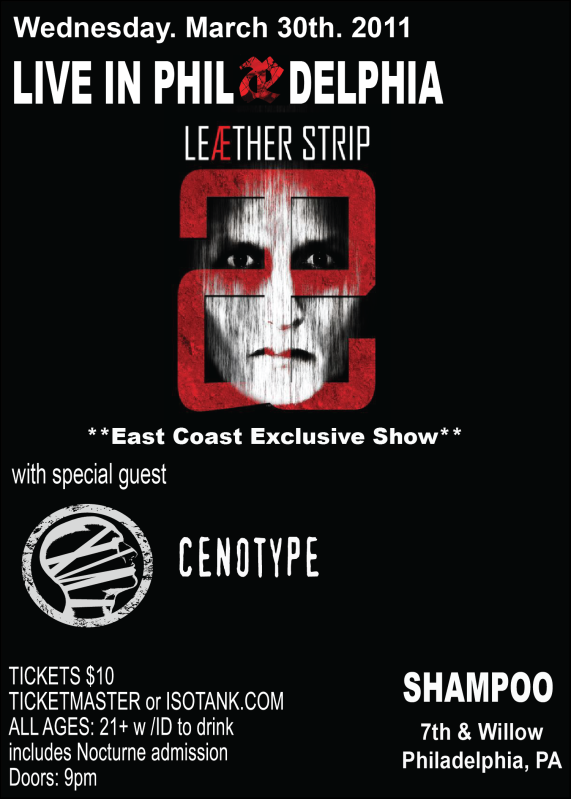 November 8th, 2010
Saturday, November20th, 2010
Xris SMack!, Mindswerve Studios + Dyztorted Entertainment present:
S T I M U L A T E
[ The Mind, The Body, The Dancefloor ]
…Get your Monthly Fix!
a Pre-Spanksgiving Industrial Feast
w/Manufactura, Das Ich, Cenotype, Eye On Kink +more !
ADVANCED REDUCED ADMISSION TIX HERE:
http://STIMULATE-ME.com/
($15 in Advance / $20 day of event)
flyer here:
http://STIMULATE-ME.com/parties/2010/11-2010/images/STIMULATE_11-20-10_DasIch_Manufactura.jpg
STIMULATE YOUR SENSES!
==== SOUND ====
Danse Macabre Artists
DAS ICH
Apocalyptic German Darkwave/Electro/Goth legends
and prominent founders of "Neue Deutsche Todeskunst" (New German Death Art)
http://www.dasich.net/history.html
http://www.facebook.com/pages/Das-Ich/103146006392744
http://MySpace.com/DasIch
http://VampireFreaks.com/dasich32
Crunch Pod Artists:
MANUFACTURA
Gripping Powernoise/Industrial/EBM/electronic…
one of the most controversial figures in the modern rhythmic noise
http://facebook.com/pages/Manufactura/174623146946
http://myspace.com/manufactura
http://music.vampirefreaks.com/download/browse.php?artist=Manufactura
http://YouTube.com/manufactura
Origins Productions/ Hive Records
CENOTYPE
chest-kicking industrial rhythms and murky black ambience. waves of grinding steel
and arcs of white-hot electricity. thick slabs of dirty ambient rumbling and
violent churning rhythms make movement absolutely mandatory…
http://Cenotype.com/
http://facebook.com/pages/Cenotype/48243006199
http://vampirefreaks.com/cenotype
http://MySpace.com/cenotype
joined by DJ's
BDay Sets from BlackWidow + Johanna Constantine
plus Dyztort, Xris SMack! (SMack!, STIMULATE, SUSPENSION)
and special guest Takuya Angel from Japan
==== SIGHT ====
Pre-SPANKSgiving Performance from EYE ON KINK
featuring Mistresses Cybil Troy, Mistress Cyber, Dirty Delilah +more!
http://EyeOnKink.webs.com/
Video Stimulation by VJ Curse and the SMack! Video Lab
and our STIMULATing Go-Go's
Birthday Girl Trish Von Dish, Anastazia, RogiZOID + Agent Orange
==== TOUCH ====
"Feel The Whip": Dungeon Play Space
w/Resident Dungeon Hosts Mistress Jordan Jones, Master Vito, Lydia Mischief, Mistress Lydia & Felix the Latex Slave
plus guests Mistress Cyber, Delilah, Cybil Troy +more!
Dungeon play Equipment provided by
* fIXE Fetish http://FixeMagazine.com/
Lots of Giveaways:
* Movie Promotion from Warner Bros. pictures for
HARRY POTTER And The DEATHLY HALLOWS
http://HarryPotter.WarnerBors.com/
Record Release party for ANGELSPIT's New "Larva Pupa Tank Coffin" CD
http://Angelspit.net/
http://Metropolis-records.com/artist/angelspit
http://Metropolis-mailorder.com/digital.php?prodnum=MET+682D
==== TASTE ====
Thanksgiving Treats & Oral STIMULATION by our resident Chef Chris #2 + guest Melissa +more!
Birthdays:
DJ BlackWidow, Johanna Constantine, Stalagmike, nakedekan +more!
DRESS CODE:
Themed: Perverted Pilgrims, Metal Mohawks, Indecent Indians, Tormented Turkeys…
Electrohead/Rivithead/Industrial, Steampunk, Cyberpunk/CyberSlut, Gothic, Gothic Lolita, Fashionista,
FETISH: PVC/Vinyl, Leather, Latex, corsetry, armor, etc…
make an Effort!
Obey our Doorgirl: Mandana
LOCATION:
152 Orchard St. (between Stanton & Rivington, 2 blocks north of Delancey, on 1/2 bloack south of Houston.
2 blocks from the 2nd Avenue F train.)
3 floors of performance and play! (Balcony Dungeon plus TWO dancefloors


9pm-4am, 21+
$15 in Advance / $20 day Of Event
http://STIMULATE-ME.Tix.com/
for more info & Advance Tix:
http://STIMULATE-ME.com/
Please RSVP:
* http://facebook.com/event.php?eid=138711166181386
* http://fetlife.com/events/3299
September 28th, 2010
1st practice w/ new live member, Brian Boyle, tonight!
New gear, some new versions of older tracks, then we gotta build some stuff for the show.
Very excited!
The LIVE section of the site has been updated.
We'll be playing on Sunday, October 10th at the Electrocution Fest in New Haven, October 23rd at the Hellraiser Halloween Party in Puerto Rico w/ Dacaboya & then we'll have a sick surprise show announcement for an NYC show that you're NOT gonna want to miss!
Stay tuned!
September 16th, 2010
Hey guys,
I have been creating custom Personas for those of you that use Mozilla Firefox and want to show how much you love your favorite bands!
Personas are like mini themes that change the look of your Firefox Toobar area. It will look something like this
You can chose from a whole bunch of sick artists, like Life Cried, Panic Lift, TERRORFAKT and a TON more! I will be adding more soon!
The Cenotype is one of the sexiest, if I must say so myself, hahahah!
You can see all of the Personas that I have created by clicking here!
Let me know what you think and feel free to suggest some bands that you'd like to see have their own Persona!
August 26th, 2010
DJ RaZoRGrrL featured "Unearth Me" (iszoloscope's remix/mash-up of the Cenotype tracks "Unearthed" & "Save Me", from the remix album Origins Unfold) along with a ton of other sick artists, such as UBERBYTE, Memmaker, Ad·ver·sary, Torrent Vaccine, iVardensphere, Alter Der Ruine, Klangstabil, Asche & many more on her most recent podcast for ReGen Magazine! Click here to check it out!!
August 26th, 2010
I got a new baby for the new album. She's small, thin and makes more obscene noise than any other synth I've ever owned. I think I'm in love.
August 17th, 2010
How's everyone doing out there?
I started a new photo album on the Cenotype Facebook page.
I'll be posting pics of the current Cenotype merch and awesome pics of the people who support Cenotype wearing it!

Feel free to add your pics to this album and tag yourself!!
Remember, you can click on the BUY link to order any of these items, plus get Cenotype's music!
I also have added Origins and Origins Unfold to the streaming media player on there, so you can listen in full quality while you're on Facebook now as well!!
August 5th, 2010
October is going to be a great month for Cenotype!
 I will playing live with TERRORFAKT, Cesium 137 & Nau-Zee-auN on Sunday, October 10th at the Electrocution Fest in New Haven, Conn!
Also, I guess this mildly official, as the promoter posted a teaser flyer to my FB wall.
Cenotype will be performing live in San Juan, PR on Saturday, October 23rd for the Hellraiser Halloween Party @ Sopranos!!
More shows and updates to be announced soon!
May 11th, 2010
Hey again, everyone!
I just added a Digital Store to the Cenotype website via Bandcamp (www.bandcamp.com)!
I am not sure how many of you prefer digital music to physicals CDs, but if that is your preference, then you have a great place to get all of the Cenotype releases now in every format, from VBR MP3 and 320K MP3 to more audiophile-friendly formats, such as FLAC, Ogg Vorbis, etc!
You can get to the store by clicking the Origins Productions Digital Store button on the Buy page of Cenotype.com or directly at http://cenotype.bandcamp.c om.
May 6th, 2010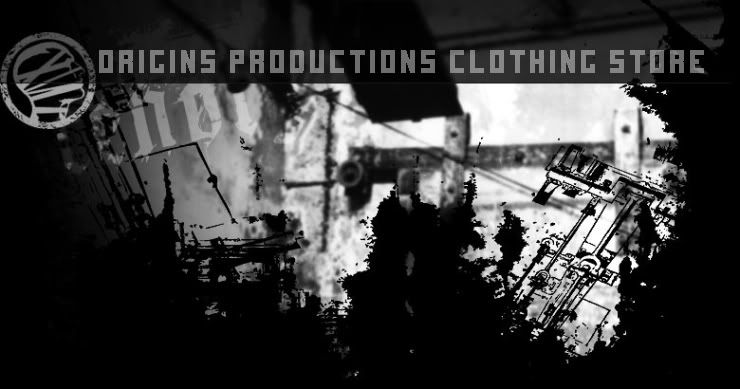 Hi all!!
I have created 2 new Cenotype stores that are linked in the Buy section of Cenotype.com so that you can now buy all Cenotype CD releases and t-shirts easily!
If you go to the Buy section of the website, you'll notice 2 shiny, brandy-new buttons labeled Origins Productions Music Store and Origins Productions Clothing respectively. Click those buttons to be forwarded to either the music or the merch store.
I know what you're thinking: this is kinda weird.
Well, the truth of the matter is, you're right! It IS weird.
I have started using a shopping car service called BigCartel, which was suggested to me by Leech of Annihilvs/ NTT. Theologian (his store is here: http://apexarmouries.bigcartel.com/).
They offer a FREE shopping cart service, but it is pretty limited and only allows 5 items.
After that, it becomes paid and since I make basically no money with Cenotype and am a very poor web site/ shopping cart designer. VIOLA! Everyone wins!
I get to have a neat-o looking shopping cart semi-attached to my website and you guys can now easily buy any Cenotype release and/ or t-shirt that you want!
Both shopping carts links to my Origins Productions Paypal account, so even if you buy merch from either site, it will all be sent to the same place! Easy as pie!!
Take a look at what I have put up and let me know what you think!!
Also, as a super awesometastic added bonus, I've dropped the price on both the Origins men's and girlie shirts!!
Go get 'em while they last!!
Lest I forget: Thank you ALL for your continued support! You guys are amazing!
-Lenny
April 8th, 2010
Wow! I just got this remix of my track "Unearthed" from Vynil Rob.
This is sick!
He didn't even have my remix kit to work with!
Check it out!
Unearthed In Brooklyn (VynilRobMix) by VynilRob
April 5th, 2010
I am testing out some posts on here that are not directly related to Cenotype, but that I am interested in.
Are any of you (all of you should be) fans of Prometheus Burning? Well, if so, here is a way to put your money where your mouth is!
Prometheus Burning is raising funds for their new Double disk album and stop-motion music video project on Kickstarter!
What happens when an independent band lets their listeners decide the fate of their next full length album and music video budget? Lets find out!
Kickstarter >> Prometheus Burning – Double disk album and stop-motion music video project by Prometheus Burning
April 5th, 2010
DJ DvlsAdvct did this kick ass mash-up of Save Me and the band Sonik Foundry.
Check it out!
Cenotype vs Sonik Foundry – Save Me from My Experiment (Crushed Alone in the Dark by DJ DvlsAdvct) by DvlsAdvct
March 31st, 2010
I have added a ReverbNation player in the Listen section so that you can stream the entire first fulll-length 'Origins' in full quality!
Remember, you can also stream the 2nd release 'Origins Unfold' there also.
If you like it, hit the Buy section and order a copy!
March 12th, 2010Hey guys.
I haven't updated in some time now. I'm working on the new release. I don't have a title, a label or whatever yet, but I can say that this album is going to be dynamic, both in theme & sound. I'm working with several guest musicians & a mix of new hardware & software.
I promise that I'll keep updates coming as they develop.
I'll be posting about some sales/ price reductions on the first album "Origins" & the shirts that were made to go along with it soon!
Also, I still have copies of  "Origins Unfold" left. Hit the Buy section to order and the Listen section to, well, listen.
Stayed tuned and, as always, THANKS FOR THE SUPPORT!
December 10th, 2009
I wrote all of this on Facebook and LiveJournal in different posts, but I figured I'd gather it all here, for posterity and for you guys, the listeners.
I am extremely anti-corporation, but this is an exemplary display of customer service by Apple.
So, the story begins 2 Halloweens ago when my laptop took a 10 foot dive off of a stage at a Life Cried show in NYC. The LiveJournal post is here, if you want all of the gory details.
Anyhoo. The people at my local Apple store ended up being awesome back then and replaced the screen for basically the price of what labor should have been, which was cheap. They also did it very quickly, which was awesome.
Fast forward to recent times. I have been thinking of getting a new computer. My plan was to get a new iMac for the studio and hope that my Powerbook, which is going on 5 years-old now, holds up enough to play shows with. It has been slowing down a bit, but is still better than any p.o.s. PC I ever had, so I've been making the best of it.
Through all of this, I am feeling guilty about spending money on any major purchases. I may have to end up finding a new place to live in the 2nd half of 2010, I am still the only one working while my fiancee is in school, and I have a wedding to save money for. So, I made the adult decision to simply upgrade the memory and battery in my Powerbook and ride it out a little longer… and not spend a ton of money. It all sounded logical. I can double the RAM for like $100, get a fancy new 7200 RPM portable hard drive for $250 and a new battry for $100. Not bad, compared to the $4k I was planning on spending for a new, fully-loaded iMac.
So, long story longer, I go to upgrade and figure out that my Powerbook is having an issue with the memory where if I put 1 memory chip in the bottom slot, I can book up fine. If I put 2 memory chips in, my computer will not recognize the bottom slot. This translates to the fact that I have basically been only running 512 MB of RAM, rather than the 1 GB that I paid for, for the last… who know how long?
So, I made an appointment at the local Apple store w/ the Genius Bar. My worst fears were confirmed. It was a failure in the logic board, which essentially means that I might as well buy a new computer. The guy who was helping me quoted me a price that made me want to puke. I was ready to just say screw it when he looks at my computer again and asks me to hang on. He went back and spoke to someone, I guess a manager. He comes back and, out-of-nowhere, tells me that not only are they going to replace the logic board for me, but they are also going to replace the case because it looks ugly from the fall. FOR FREE?!?!?!?!
Yeah. I swear. FREE. I should also mention that my computer is like a year and a half out of my extended Apple care warranty, so they really did not have to do anything.
They said that they would have it for roughly 7 days.
Fast forward to yesterday. I got a call letting me know that my computer was ready to be picked up. 2 days early, I might add.
Mind you, I was supposed to get the logic board replaced and they decided, for seemingly no reason, for FREE.
Here is everything they ended up throwing in:
– Logic Board
– Video Display Panel
– New RAM Chip
– Input/ Output Board
– Keyboard
– Top Case
– Bottom Case
– Display Housing
– Battery
Yep, you read it correctly. I basically got a new computer back. The only original part from my computer that is there is my hard drive!!
Seriously, there are like no words. They went so completely above and beyond anything that needed to be done.
I will be singing Apple's praises for years to come.
So, everyone who is a fan of Cenotype, go thank Apple because all of my music is done on my laptop and they have saved Cenotype from oblivion a few times now.
December 7th, 2009
format: MP3 – date: November 2009
T-FAKTOR is a side project of Benjamin DeWalt (a.k.a. DJ HELLRAVER) of the hard hitting industrial power noise phenomenon know as TERRORFAKT.
"Bricks and Thunder" is a free release previewing 3 T-TAKTOR tracks from the upcoming T-FAKTOR release "Bricksplitter" plus some amazing remixes.
Tracklist
Bricks and Thunder
Derailer
Go On Home
When Spirits Collide (remixed by Cenotype)
Beneath (remixed by The Carapace – featuring Josh from scrap.edx)
Beneath (remixed by c2)
Go On Home (remixed by LAN Formatique)
Bricks and Thunder (shithouse remix by Caustic)
Beneath (remixed by The Vomit Arsonist)
Bricks and Thunder (remixed by HEDORAH)
When Spirits Collide (remixed by Nau-Zee-auN)
Derailer (derailed by synnack)
Bricks and Thunder (reimxed by Jeye)
Beneath (remixed by Prometheus Burning)
Derailer and Beneath T-Mashup (mashed by Concrete Cookie and the Maggot Farmer)
When Spirits Collide (remixed by Freeze Etch)
Derailer (remixed by c2)
Beneath (remixed by Wilt)
[ FREE DOWNLOAD ]
September 30th, 2009
Cenotype has begun the slow move into the social networking realm and can now be followed on the following sites:
myspace: cenotype@myspace!
facebook: cenotype at facebook!
twitter:  cenotype@twitter!
last.fm: cenotype@last.fm!
virb:  cenotype@virb!
Now you can know every time I get grumpy, hungry and all of the various other emotions in REEEAAAL TIIIIME.
Very exciting to you all, I'm sure.
April 9th, 2009
Here is the first review of Origins Unfold from the e-zine DarkTwinCities
.
Very nice, if I must say so myself.
Cenotype – Origins Unfold
[return to reviews]
Label: Origins Productions
Review by Christopher Roddy
One of the more intriguing acts to establish itself within the Industrial/ Powernoise realm is Lenny Bogatch's Cenotype. Arising from the depths of the Jersey City/NYC underground the highly conceptualized arrangements and alternating stomp to ambiance ratio has won over a growing number of fans tired of mindless pounding and seeking something with a little more depth. In 2007 Hive Records released the debut album, Origins, which was an interesting mix of layered rhythms and waves of distortion which occasionally lapsed into forays of droning ambient soundscapes. A concept album without an obvious, defining narrative, Origins was a pretty impressive effort that provided the sort of impressionable introduction any other artist would envy. The material from the debut album certainly lends itself to a variety of interpretations, rhythmically, conceptually and emotionally. Bogatch was compelled to put together a CD that wasn't so much a straight remix album as a re-imagining of the source music. He invited a number of admired friends, some well known and others not so much, to contribute to this project and Origins Unfold was born. An independent release put forth by his own Origins Productions imprint this little wonder of an album with the impressively lengthy running time comes in a hand-assembled chipboard CD case that is individually numbered, limited to a pressing of 250 copies. That makes it a rather coveted selection which will disappear quickly so you may want to secure a copy with haste. The CD itself is solid black and the package comes with a 3 inch CDR featuring an extended remix by Navicon Torture Technologies. It can be difficult to compare/ contrast originals with their reinterpretations as the differences are often vast but I can at least site a couple noteworthy examples. The original version of She' s Dead Requiem was one of the few tracks on the debut that seemed like it translated fairly well to a club setting with its steady, throbbing beat. There were moments though when it seems to be coming apart at its seams before resolving back into a more traditional cadence. It is the sort of track that practically begs for a proper remix. Tony Young, aka Autoclav 1.1, was more than happy to oblige with a rough, grinding burn that is matched by a transcendent synth atmosphere. While it's not what you might have expected it's certainly driving and memorable. Save Me was the first proper beat-oriented track of Origins and featured a scissoring rhythm intro that evolves into bubbling distortion and foreboding ambiance. Never one to take the easy route, Iszoloscope does a mash up of this track and the final piece on Origins, Unearthed.The former is more go-for-the-throat while the latter relies on a more hypnotic pulse. Unearth Me (Save Me vs Unearthed Mash Up by Iszoloscope) is dominated by that droning pulse in the beginning and serves as a sort of grounding for the endeavor while harsh, if minimal, variations are explored. For his part Clive Reinhold accentuates the more ringing aspects of the rhythm inherent in Save Me while Last Days of Sex focus more on the choppy distortion. Jamie Blacker of ESA, however, builds a cosmic, spiritual temple that could be considered pure tribal bliss were it not for the obviously corrosive digital sheen. Think It And It Will Be vs. Pieces vs. Skip Trace (Correlated and Abused by Synnack) is probably the most ambitious project as it takes the mid tempo opener of Origins and combines it with one of the more upbeat numbers as well as the most memorable ambient track to create a machine-like, nightmarish amalgamation which serves as the sonic equivalent to your most distorted and disturbing dream experiences.What's most interesting about Origins Unfold is how it seems less like your standard remix offering and more like an exercise in mutual respect between an artist who is a fan of many of his contemporaries and the like-minded admiration of those hand chosen to handle the music from this unique and singular musician giving voice to his deepest emotions in a divergent digital context. While the work of Bogatch seems slightly disjointed with its forays into Ambient and Powernoise respectively the way in which the styles coalesce (and will, most likely, further merge in the near future) proves one of the more interesting synergies within contemporary Industrial and this is the sort of collection where a little help from your friends goes a long way in pleading your case to the masses. You should actively be seeking a copy of this limited release with a high degree of expediency as it's the sort of collection that's going to be talked about and disseminated for some time to come.
Tracklist
1. Skip Trace (Remixed By Prometheus Burning)
2. Think And It Will Be vs. Pieces vs. Skip Trace (Correlated And Abused By Synnack)
3. Unearthed (Remix By Tonikom)
4. The Mind Wanders (To The Point Of New Return By Booty Jazzhands)
5. She's Dead… Requiem (Remixed By Autoclav1.1)
6. Pieces (Remix By ATEK)
7. Save Me (Remixed By Clive Reinhold)
8. The Mind Wanders (Torches From A Distance Remix By The Panic Lift)
9. Unearthed (Remixed By Silent_Command)
10. Save Me (Destroy Your Savers Remix By Last Days Of Sex)
11. Skip Trace (Remix By 100Blumen)
12. Pieces (Shrapnel Mix By Caustic)
13. Save Me (There Will No Saving Remix By ESA)
14. Unearthed (Remix By C/A/T)
15. Unearth Me (Save Me vs. Unearthed Mash-up By Iszoloscope)Bonus disc: Stagger (Skip Trace Remix By NTT)
April 7th, 2009
Thanks to everyone who came out to see us and thanks to the Cenobytes crew for a seriously amazing show and a memorable trip!! You guys rock!
March 8th, 2009
Hi all,
Cenotype has been booked for its first European show!!
The fun begins on Friday, April 3rd in Rotterdam!!
Here's some info:
| | |
| --- | --- |
| Host: | Duracell / Darkforce / Cenobytes / Twisted Trance Society |
| Type: | |
| Network: | Global |
| | |
| --- | --- |
| Start Time: | Friday, April 3, 2009 at 10:00pm |
| End Time: | Saturday, April 4, 2009 at 6:00am |
| Location: | WATT |
| City/Town: | Rotterdam, Netherlands |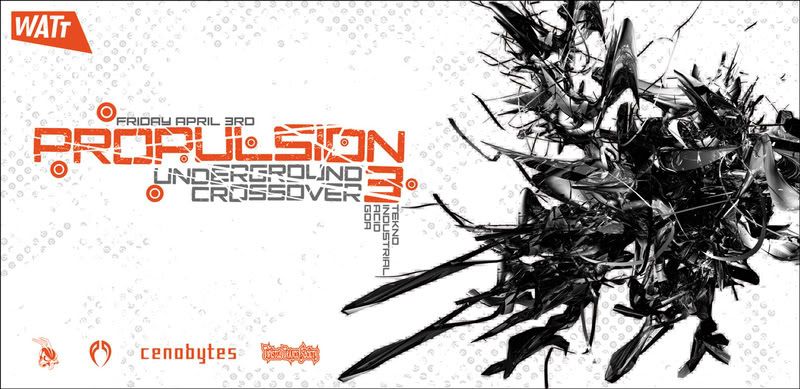 Main – Duracell + Darkforce

Dolphin (UK) (Ninja Columbo/Pacemaker)
Mr Gasmask aka Emetic (BE) (Binary Bassline)
Stoornis (BE) (Narcosis)
Mono-Amine vs Joost G (Darkforce/Vendetta)
Double XX DJ Team aka Ruwe data vs Rattaplan (D-Struct/ZMK)
Stefan vs Deepfrost (ZMK/Duracell)
Dissolvement vs Strytox (Duracell)
Visuals by Dirty Brown Visuals
Act by Hipsick
Basement – Cenobytes
Iszoloscope (CA) (Ant Zen)
Cenotype (USA) (Hive Rec)
Keef Baker (UK) (Hymen Rec)
ESA [Electronic Substance Abuse] (UK) (Hive Rec)
dj Asche (DE) (Ant-zen)
dj Intoner (USA) (intoner.org)
dj Mullah Mingie (K9)

Theatre – Twisted Trance Society
Ephedrix (BE) (Dacru Rec)
Fluofreax (TTS)
Yucka (Cosmic Combination)
E.T. Mindfood (TTS)
Genericon
Visuals by Camp-Atack
Decoration by Deco-Droom
February 21st, 2009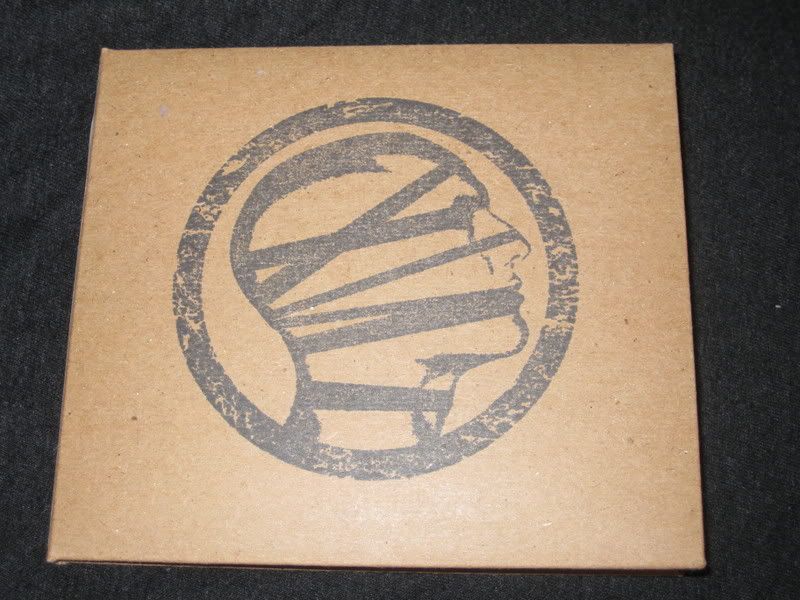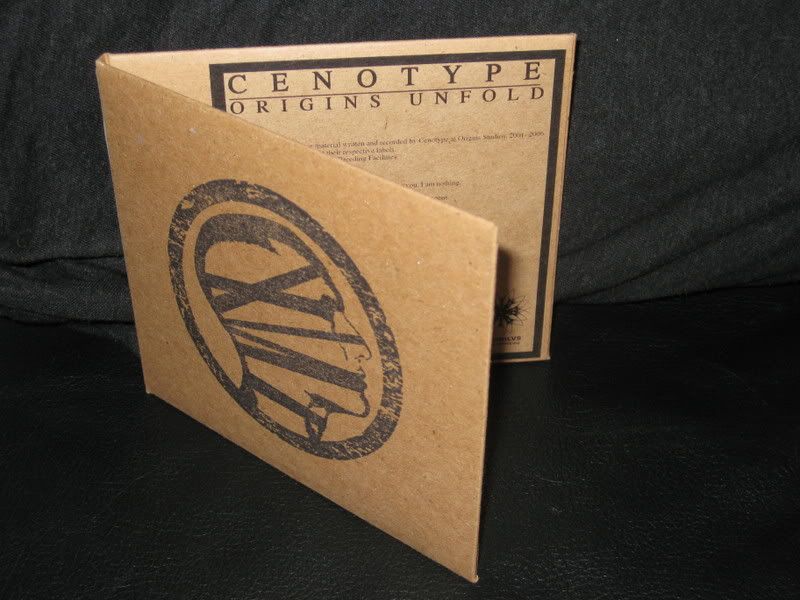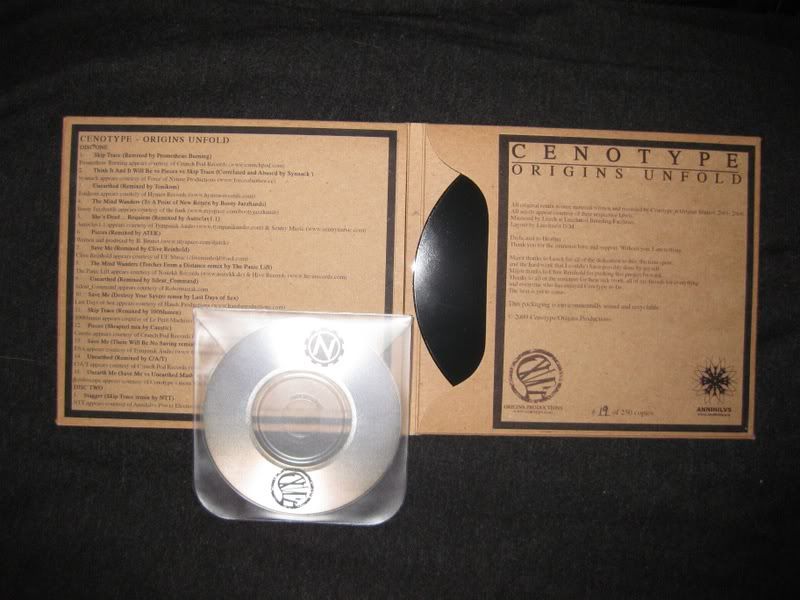 ORIGINS PRODUCTIONS & ANNIHILVS POWER ELECTRONIX PRESENT
CENOTYPE. ORIGINS UNFOLD
Featuring remixes from:
100BLUMEN
ATEK
AUTOCLAV 1.1
BOOTY JAZZHANDS
C/A/T
CAUSTIC
CLIVE REINHOLD
ESA
ISZOLOSCOPE
THE LAST DAYS OF SEX
NAVICON TORTURE TECHNOLOGIES
THE PANIC LIFT
PROMETHEUS BURNING
SYNNACK
SILENT_COMMAND
TONIKOM
This very special release is now available in a limited edition of 250 numbered copies. Black-on-black CDRs collect 15 amazing remixes from the above-listed contributors, and a 3inch CDR featuring an extended remix by NAVICON TORTURE TECHNOLOGIES, are packaged in hand-assembled chipboard CD cases, stamped with the CENOTYPE/ORIGINS logo.To thank the people who have supported this project and its releases, there will be a promotional card included at random in a few of the packages that will entitle the buyer to one free merchandise item from CENOTYPE. The winner will be able to choose from one of two T-shirt designs or the first full-length CENOTYPE CD, ORIGINS (HIVE RECORDS).
February 5th, 2009
So, I have been ignoring this site and the time has come to make this the new home for Cenotype. I have been trying to use all of these other social networking sites to keep people filled in about info on this project. While I will continue to do this, I think it's only logical that Cenotype.com be the epicenter of all of the goings-on of this project.
Hopefully, we can all start coming here for any and all info on Cenotype.
I will continue to post Cenotype updates on the Myspace, Facebook and Vampire Freaks sites for now, but would love to condense everything down to here.
I have some great plans for this site, like some new image galleries for both the promo and the live photos and hopefully a functional Store where you can all come to buy Cenotype merchandise, like the Origins full-length, the various t-shirts, stickers, pins, side-projects, remix CDs, etc.
You heard it here first.