SATURDAY, JULY 23RD
ELECTRONIC SAVIORS
A LIVE CONCERT and DANCE PARTY
to CRUSH CANCER!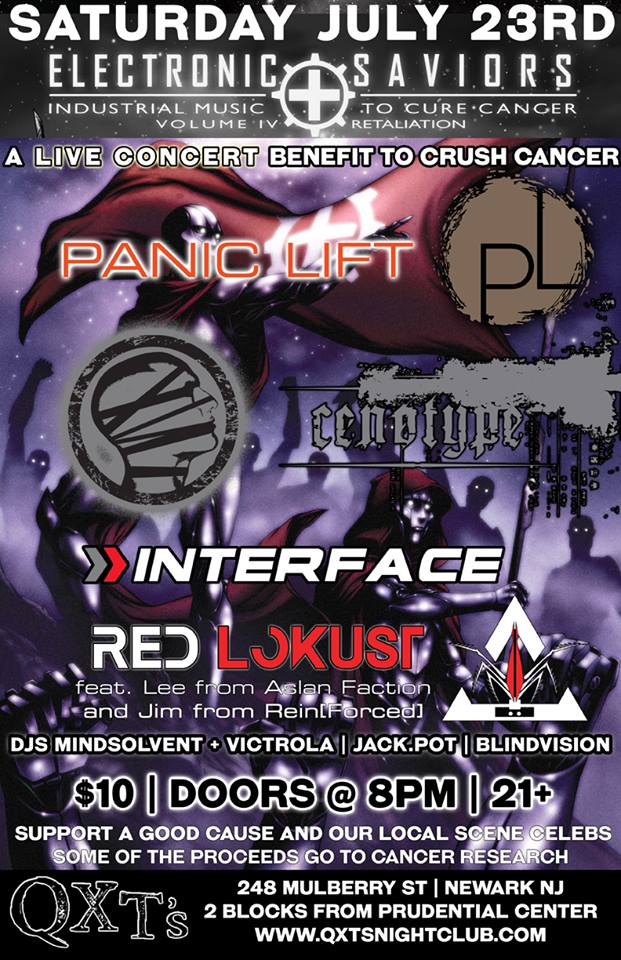 All of the following bands are donating their time and performance absolutley free to raise money and support the fight against cancer and this compilation!
You can read more about this project and Jim Semonik's cause, as somewhere along the line… it affects us all in some way.
details here:
QXT's will donate a portion of the proceeds of this event with your donation of $10 for 4 bands and a dance party in between bands and after at 11! That's $2.50 a band!!
Performers Include
plus DJ's on two levels 3 dance floors (Dance party at 11)
Mindsolvent & DJ Victrola – Main Floor
Jack.pot – Area 51
Blindvision- The Crypt
Let's gather to show everyone how much QXT's and it's family love and support not only Underground Music, but, the welfare of others!
Doors 8 pm
First band 8:30 (get your moneys worth! come early please)
Dance party at 11 (but we're pretty sure you'll break out into dance before then 😉
$10 for all (remember it's a donation for all this entertainment…something you can feel good about)